NOTE: YOU CAN ASK QUESTIONS, OR DISCUSS SOFTBALL, OR SEND ME A JOKE BY CONTACTING ME DIRECTLY AT danhughesmail@gmail.com

Managing and Coaching
Adult Slowpitch Softball
by Dan Hughes
An Insider's Look at Hitting, Pitching, Fielding, Useful Stats, Practices, Bats, Tournaments,
Sponsorships, Fundraising, and a Whole Lot More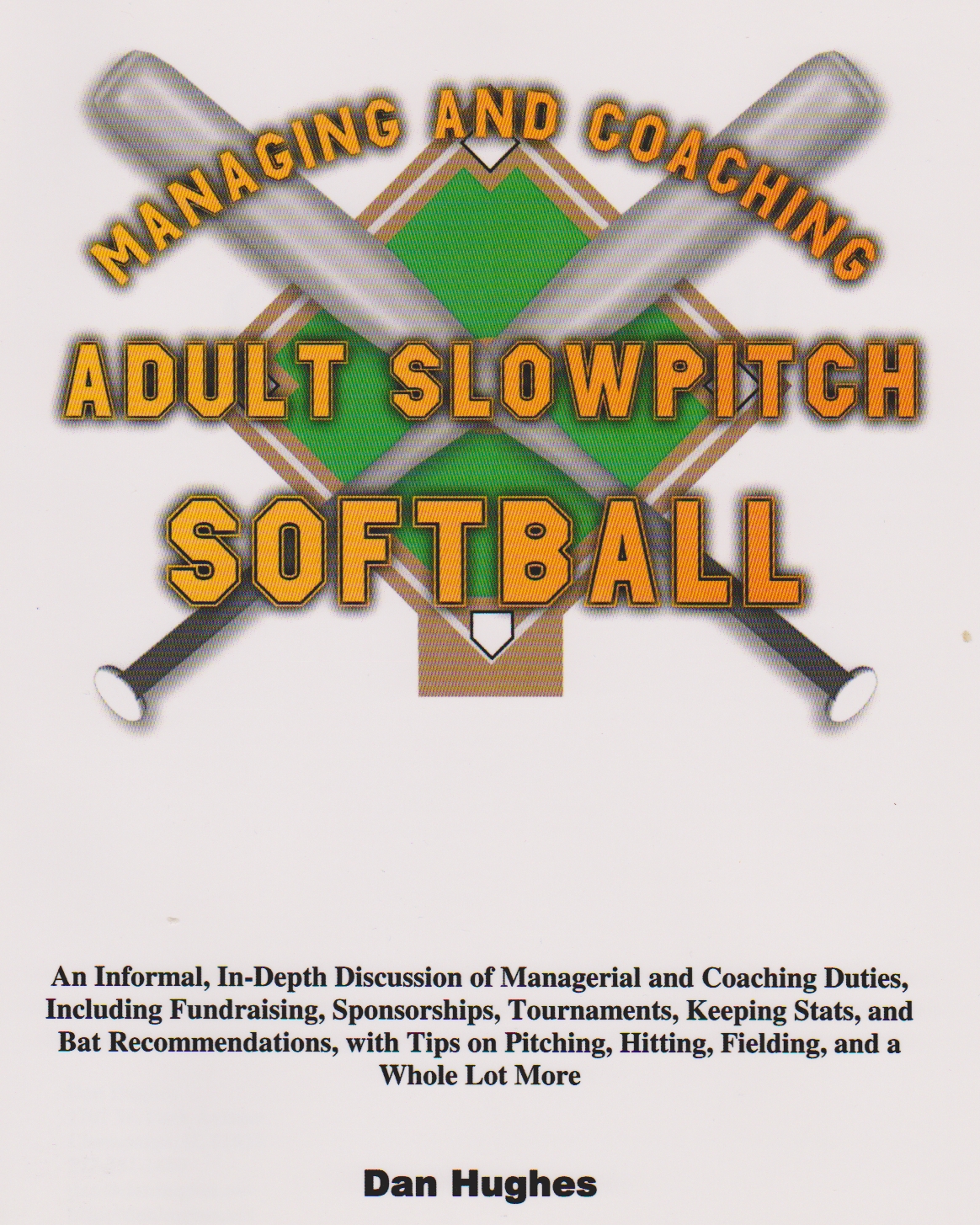 "Hey Dan read your managing softball book, one of the best books I ever read....my team is better than ever, started the season 3-0 so far and just crushing teams, plus I'm a lot happier as a manager. Thanks for the book" - Francisco, Austin, TX.
---------------------------------------------
This book gives you unique and practical advice on such things as:
The duties of the team manager before, during, and after the season
Keeping stats that are actually useful
Quick-tips on bat selection, hitting, fielding, and pitching
Putting up a team website and internet bulletin board
Making practices as much fun as actual games
Money topics: finding sponsors; making money with tournaments
Getting your players to show up for games before you have to turn in your lineup
And a whole lot more. See the full Table of Contents.
---------------------------------------------
From another long-time manager:
"Very nice book! Very informative and I like the laid-back, light-hearted style. The section on finding sponsors is excellent! Great comments! I enjoyed reading this."
---------------------------------------------
In just the first few pages you'll learn:
How to make total strangers cheer for your players – by name – at faraway tournaments
How to scout for new, quality players
How to make money for your team long before the season begins
How to handle problem players
Over 20 items to consider packing in your team bag
Nine ways to make money at your tournament, besides the entry fee
And that's just the bare beginning. Here's a more complete list of topics covered in the book.
Written for the newbie manager (but veterans will pick up new tricks too), this book is easy to read.
One reader said, "I haven't read a book in fifteen years, but this one I couldn't put down."
Unlike other books about managing softball, this book is for the people who run adult teams. It contains none of that stuff you see in other books about being a positive influence on young minds.
From the book: "Books on coaching Little League keep reminding you that you are making impressions on young people that will last a lifetime. They say things like, 'As the sapling is bent, so grows the tree.'
But my saplings had been bent long ago, and trying to bend them back was not a job I was willing to undertake. Not without power tools."
This book has no boring, repetitive drills that make your players skip practices, and no diagrams of what the third baseman does on a hit to center with two on and one out. Those topics are well-covered in the softball books you already own.
---------------------------------------------
"Dan writes for people who don't like to read." - from a reader.
© 2009 Dan Hughes